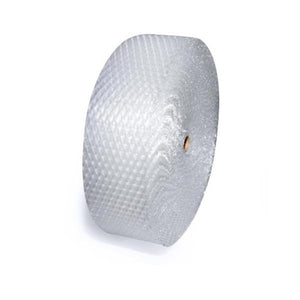 1/2" Bubble Rolls ( Big Bubbles ) 12" Wide / Perforated every 12"
Please note: This product ONLY ships to the 48 contiguous states.
There's nothing quite like a soft, supportive cushion of air. That holds true for sound sleeping while camping, and it holds true for safe shipping while packing. We offer handy and economical bubble rolls for all your packing needs! Each strong plastic sheet is covered in 1/2" bubbles, resilient enough to keep your breakables intact, while still light enough to not tip the postal scale, saving you money over foam peanuts or wadded newspaper.
Protect your package contents by wrapping in secure, light bubble padding.
Protect against shock, abrasion and vibration.
Standard 1/2" bubble thickness
Conveniently perforated every 12 inches
Larger rolls come in easy to use dispenser cartons
Specifications
Package Type: Carton Dispenser
Bubble Size: 1/2"
Dimensions: 1' x 130'
---
More from this collection