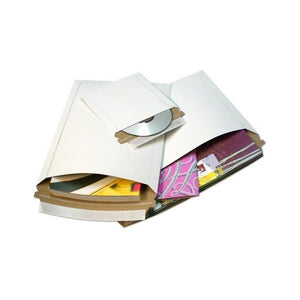 Size 12.75"x15" White Rigid Mailer with Peel-N-Seal
Please note: This product ONLY ships to the 48 contiguous states.
Every so often it happens. Those three little words, "Do Not Bend" on your proof photos, artwork, CDs or other digital media are overlooked or ignored in the zeal to get the mailer into the mailbox. Keep the mail carrier from bending your delicate documents and photographs! This light-weight rigid cardboard mailer doesn't say "Do Not Bend" - it embodies it. The stylish white of these stiff and durable mailers also evokes a sense of professionalism.
Perfect for shipping various media, photos, documents, and much more
Closes quickly and securely with the self-sealing adhesive strip
Meets USPS regulations
Contains 30% postconsumer recycled materials
See How Much You Save! When you buy in our larger bulk packs
---
More from this collection