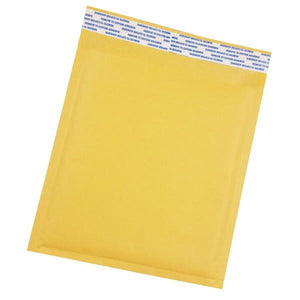 Size (#3) 8.5"x13.5" Kraft Bubble Mailer with Peel-N-Seal
Please note: This product ONLY ships to the 48 contiguous states.
When shipping shirts, paperbacks or other light and non-fragile items, why waste money on extra ounces of rigid cardboard? Why not go the softer route and use protective Kraft Mailers? By not using a box, you could end up saving enough on postage to pay for the bag of mailers itself!
These strong envelopes are made in the USA from 28-lb. Kraft paper, highly resistant to tears and punctures from normal use. Inside is a supportive cushion of air bubbles to protect fragile objects from normal mailing stresses. A convenient peel-and-seal adhesive closure ensures the security of your mail. Made in the US from recycled materials with a double-seam for strength and security.
Light mailer saves on postage - almost pays for itself in bulk!
Closes quickly and securely with the self-seal peel-and-stick closure
Seamless bottom for maximum strength with smooth side seams
Lined with light 3/16" bubble cushioning
Kraft stock resists tears and moisture
Meets USPS regulations
---
More from this collection