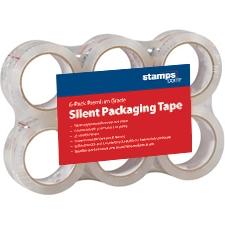 Silent Packaging Tape, 6 Rolls
It sets everyone's teeth on edge - the sound of tape being pulled off a roll. We completely sympathize and know you've been driven insane by that sound for too long. There's a quieter way to seal your packages securely, with our Silent Premium Grade Packaging Tape. It goes on quiet, and stays on strong. The heavy-duty 2.6 mil thick plastic tape resists splits and tangles, and secures down into a tight, secure seal even for the toughest packaging jobs. Use it for shipping, moving, or storing your household treasures or merchandise.
Our silent tape comes in both 2-inch and 3-inch widths, and each roll in the 6-roll pack measures out at 110', giving you enough tape to finish a good-sized shipping or moving job.
Silent application for noise reduction
Premium grade 2.6 mil thickness
Superior resistance against splitting
Extra strength and long-lasting durability for heavy-duty packages
Excellent performance over broad temperature ranges
Specifications
Tape Width: 2" or 3"
Core Diameter: 3"
Length: 110'
Thickness: 2.6 mil
Rolls per Pack: 6
---
More from this collection