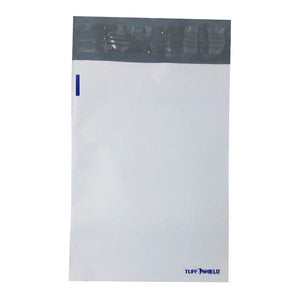 9"x12" White Poly Mailer with Peel-N-Seal
Please note: This product ONLY ships to the 48 contiguous states.
Important mail deserves a tough envelope. There are times where even tough and resilient Kraft paper is not enough. For those times, we offer Polyolefin Pull and Seal Catalog Envelopes! Polyolefin, better known as polyethylene, is completely waterproof, non-reactive, and at a 3 mil. thickness, resists cuts, snags and tears.
Best of all, it's 100% recyclable -- once your customer's done with the mailer, they can toss it in the recycling alongside their plastic bottles!
Strong 3 mil. thickness polyethylene film
Tamper evident pull & seal closure
Double perforation for easier opening
Light material reduces postage costs
Choose just the right size for your needs
---
More from this collection